Uses
These are the tools that I frequently use. I set up this page after discovering this useful blog which interviews people about what they use to get the job done.
Last updated: 2023-10-28 Sat
Hardware
Laptops
My main laptop is an Asus VivoBook X512DA. I bought this laptop when I moved to Korea in early 2021. I had brought a different laptop with me, but it didn't survive the journey. In Korea, there are a lot of identification checks required when shopping online on a lot of major sites, so I needed a local to actually buy it for me. The receptionist at a training school I was attending was nice enough to order it for me, and in return I gave her some sweets I had brought over from Ireland. It cost around 400,000KRW (around 400 USD), and arrived with no OS preinstalled. I ended up installing PopOS on it, and so began my linux journey!
It's not a powerful laptop, but I like using it because the screen is quite large (15.6 inch), at least compared to my other two main laptops, a Thinkpad X230, and a Thinkpad X220. The Thinkpad X230 was also bought in Korea and was around 120USD, the Thinkpad X220 was bought more recently for 70 EUR, with a few upgrades/repairs needed.
I far prefer the keyboard and other ergonomics of the thinkpads, but again, I stick with the Asus for the most part because of the screen.
Update 2023-10-28: Last July, I finally caved and bought a Macbook Air M1. It's my first time using a Mac/MacOS, and to be honest I really love it! It was very easy to switch to it from using Linux, with all of the same cli-tools still available. Everything I wrote about below in the 'software' section still applies.
Desktop
I use a Ryzen-based desktop (integrated graphics), with Windows/Gnome dual booted. This is the main device I use when playing games (on Windows) or doing any kind of music production (again, using Windows/Abelton). It also is the main backup/storage source of my files.
Raspberry Pi4B
I've had one of these for a few years now and it's a great little tool for lots of random applications.
Kindle
My Kindle is the longest running piece of tech I use. I got it in 2011 and it's still going strong.
Software
I installed Arch on my Asus laptop in mid 2021 and have been using the same install without issue ever since. I used bspwm for a long time, and recently switched to hyprland/wayland.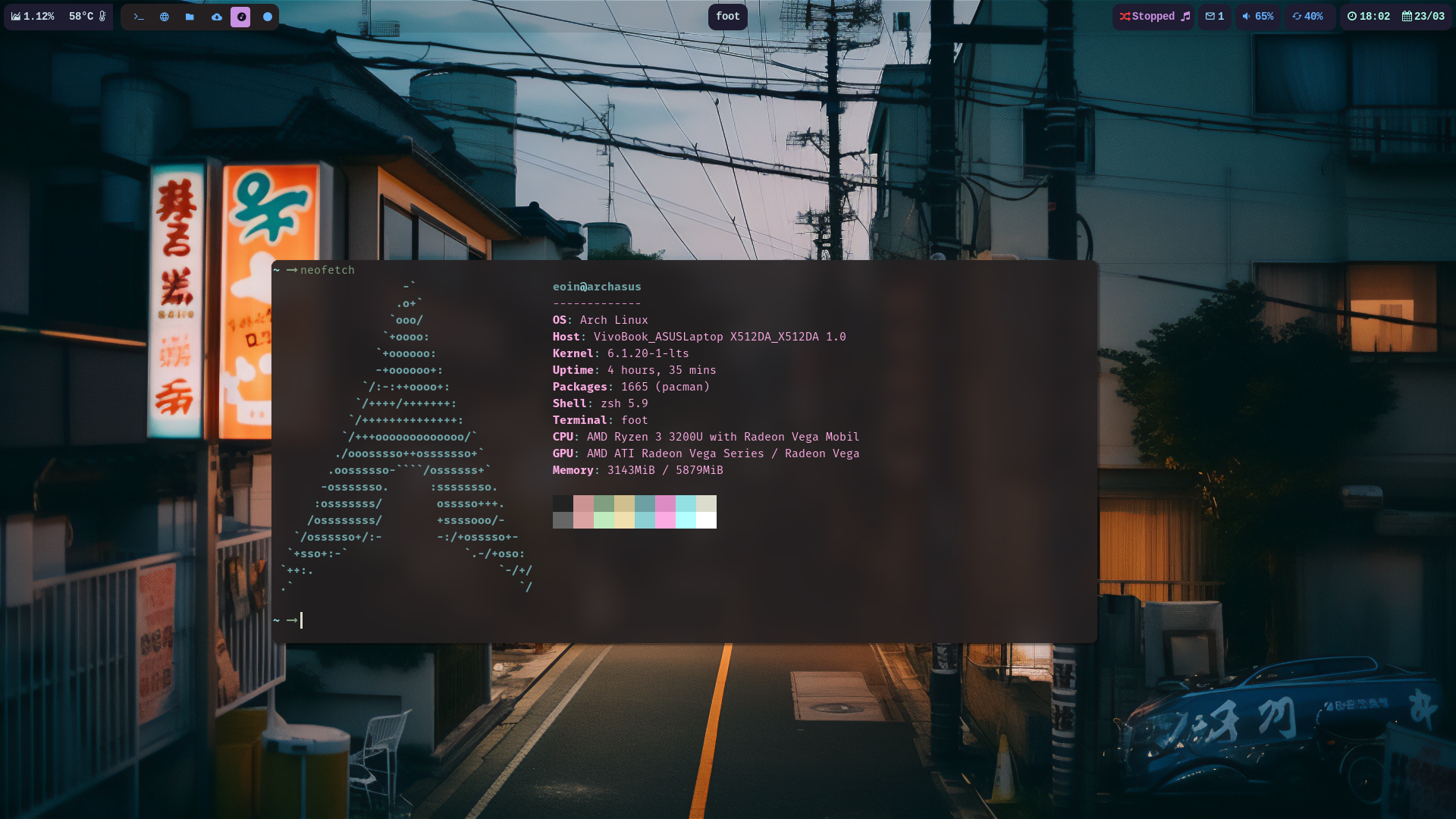 Here is the list of the main software I use in my common workflows. Obviously, there are also a huge amount of smaller utilities that I depend on, but I'll stick to the major programmes for now.
| Tool | Functions | Alternative to? |
| --- | --- | --- |
| Emacs | Word Processing | Microsoft Word, etc. |
| | Coding | VSCode |
| | mail (mu4e) | |
| | Feed Reader (elfeed) | Youtube, News Websites |
| | Network Client (web/gopher/gemini) | |
| | Chat (erc) | |
| | File explorer/manager (Dired) | |
| | Note Management (denote) | |
| | Time Tracking/Task Management (org) | |
| | Keeping a Diary (denote) | |
| Git | Version Control | |
| Mpv | Watching Videos | |
| Ncmpcpp/Mpd | Playing Music, Streaming Radio | |
| Minidlna/Transmission | Streaming Videos on local network | Netflix/Streaming Services |
| Ledger | Managing/Tracking Personal Finances | |
| Syncthing | Sharing files between devices | Dropbox, etc. |
| Streamlink | Streaming Twitch (w/mpv) | |
Dream setup
I'm not sure that I have a 'dream setup', I prefer to work with what I already have. Working within limitations can often lead to creative solutions and a better understanding of the underlying tech.
I suppose I would love to have some kind of server rack and start self hosting some things. At the moment, I rent/share a place and we don't have the ability have ports forwarded, etc.